Electric Bikes are becoming an increasingly common sight in towns and cities across the country, and they are becoming more affordable. This is great news for the first-time buyer, as there is more choice and better value than ever before. In this article we have selected 10 of the best electric bikes currently available for under £1000.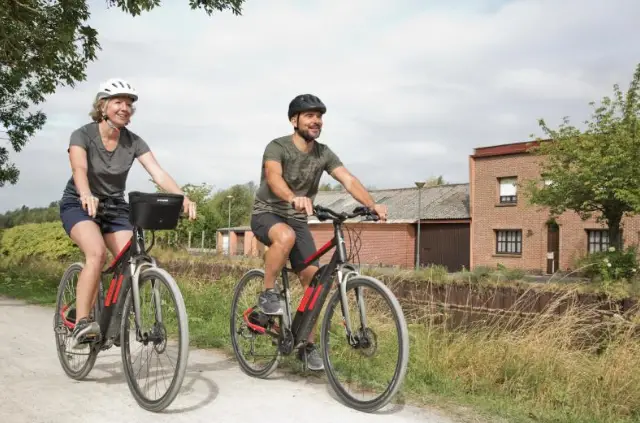 Electric bikes have been steadily gaining in popularity over the last few years, but one of the main barriers a lot of people have faced is the price. Thankfully, due to trickle-down technology, and an increasingly competitive sector, a lot of the major retailers are now offering decent e-bikes at a budget price.
So, what do you get for your money?
Up until a couple of years ago, the budget sector was awash with cheap e-bikes that used poor quality, unbranded components and cheap lithium battery packs that only lasted a few months.
More recently lot of the big household names like Halfords and Decathlon have got in on the action and started to produce some pretty good ebikes for the money.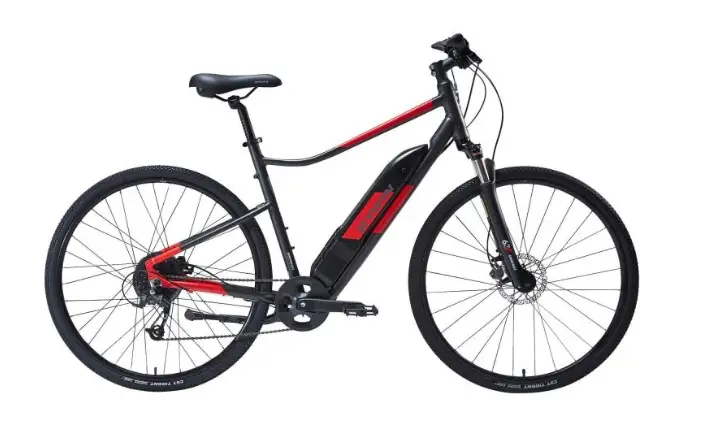 Their most recent offerings in the sub-£1000 price bracket include such technology as torque-sensing pedal assist, high quality lithium battery packs and decent bicycle components (like hydraulic brakes). These bikes also come with 12-24 month warranties, so you can be confident of your consumer rights if an electric fault occurs.
So, what kind of electric bike can you buy for under a £1000? As it turns out you can actually get something pretty decent.
Motor
Nearly all electric bikes priced at under £1000 have rear hub motors fitted. Hub motors have been around for a good few years now, and are seen by some as a little antiquated, but they are still a cheap and reliable form of electric propulsion for an e-bike.
Legally in the UK and EU, you can only ride an ebike with a maximum continuous power output of 250w, so it doesn't matter whether you spend £8000 or £800, you are still getting the same power.
Of course, the £8000 e-bike will have serious off-road riding credentials, a high-tech mid-drive motor like a Bosch or Brose, a carbon frame and a high-end groupset. It will also be smoother, more efficient and produce more torque. But ultimately, it still won't provide assist above 15.5mph (25km/h) .
In conclusion, the kind of hub motor you will find fitted to a budget ebike is likely to be reliable and produce around 40Nm of torque. I have ridden and tested many of these bikes on hilly terrain, I have also fitted 250w hub motor conversion kits to over 100 bicycles and pretty well much everyone has been satisfied with the end result.
Battery
Budget e-bikes used to have low capacity batteries and unbranded lithium cells. Thankfully the latest cheap electric bikes from retailers Halfords and Decathlon use high quality, Samsung or Panasonic lithium cells and the batteries also have a decent energy capacity.
Energy capacity is measured in watt hours (Wh) – the higher the figure, the greater the range. Some of the bikes listed below have energy capacities exceeding 400Wh, which means that a range of up to 60 miles can be achieved on a single charge.
Frame
The frame material of choice for all budget e-bikes is aluminium, as it is fairly cheap and also lightweight. Some of the better models even have internally routed cables – a feature only found on more expensive bikes a few years back.
Components
As you would expect with a budget e-bike, you are not going to be getting the latest Shimano or SRAM groupset. But it's worth remembering that, even the lower end Shimano and SRAM (or Microshift) componenets are still of very good quality and reliability.
Brakes
Ideally, all electric bikes should have good hydraulic brakes. Especially when you take into account the extra weight of an ebike.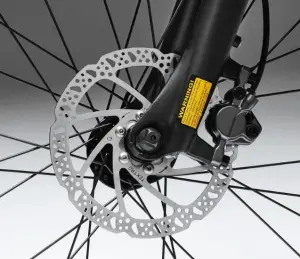 Some of the electric bikes featured in this article uses mechanical disc brakes, which do the job well enough.
Accessories
Although there are a few budget electric bikes that are actually very well catered for when it comes to accessories like mudguards, pannier racks, lights and kickstands, a lot do not come with these extras fitted, so you will need to budget for these (if you need them).
---
Our Selection of the 10 Best e-Bikes for under £1000
Okay, so lets get on with our selection of the best electric bikes available in 2020 for under £1000. All the bikes listed below have been tested and ridden by our sister site ebikechoices.com. We have selected them based on value for money, customer reviews and our own personal experience trying them out.
Decathlon Rockrider E-ST500 Electric Mountain Bike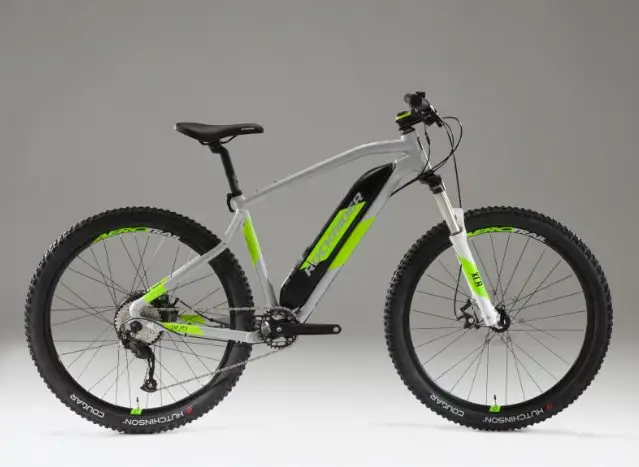 The Rockrider E-ST500 electric mountain bike from Decathlon, is in our opinion one of the best value e-bikes currently available. This bike punches above its weight in many areas – from the neatly integrated 417Wh battery through to the smooth, torque-sensing pedal assist and the extra wide 2.4″ tyres.
Another great thing about the E-ST500 is the gearing is just right for an off-roader, with a 34T chainring upfront and an 11-36 9-speed rear cassette – you will always have a low enough gear to help you tackle those steep climbs.
The motor produces plenty of assist when needed, and the bike also rides fine with the assist switched off – although you will notice the extra weight.
PROS:
Exceptional value for money
2.4″ Tyres
Torque-sensing pedal assist
417Wh batterySensible gearing
Surprisingly capable off-road for a budget e-MTB
CONS:
Hydraulic brakes would have been the icing on the cake
Read full review here
---
Decathlon Riverside 500 Electric hybrid Bike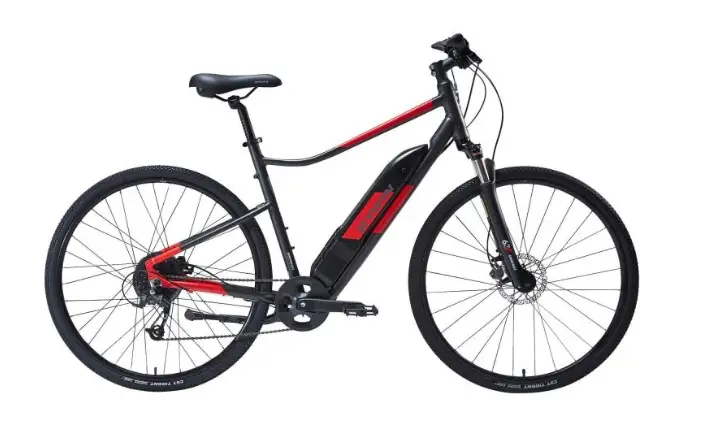 The Riverside 500 electric hybrid bike from Decathlon really is a great all-rounder in the classic hybrid sense. This is a very neat looking electric hybrid bike and also uses a 417Wh battery. The torque-sensing pedal assist provides seamless assistance when needed, and the Suntour forks are ideal for riding on canal towpaths and cycleways.
Hydraulic brakes provide confident stopping power, and an 11-34 8-speed gear cassette ensure a wide range of gears for hill climbing.  The 250w rear hub motor provides plenty of assist when needed, and the battery should give a potential range of up to 60 miles.
PROS:
Versatile all-rounder
Unisex design
Great little motor
Decent 36v11.6ah battery
Hydraulic brakes
CONS:
It's hard to find fault with such an excellent ebike
Read full review here
---
NCM Prague Electric Mountain Bike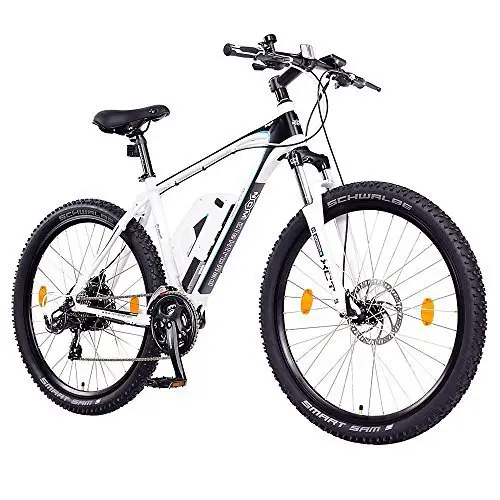 This electric mountain bike from the German company NCM, has been a very popular choice for people buying direct from eBay and Amazon. The customer reviews speak for themselves, and having tested this e-bike out, it really does offer fantastic value at £899.
One thing that struck me about the NCM Prague, is the robust construction and quality components. The Prague uses the proven Bafang 250w rear hub motor in conjunction with a class-leading 468Wh battery. The rest of the components aren't too bad either: 29″ Schwalbe Smart Sam Tyres, Suntour Forks and Shimano gearing all make this one of the best value electric bikes in this selection.
PROS:
250w Bafang hub motor
468Wh battery
29er Wheels
Suntour forks
LCD display with 6 assist levels
CONS:
Not suitable for heavy off-road use
Read full review here
---
Carrera Vengeance
Halfords budget electric mountain bike the Carrera Vengeance E is great value and very popular with consumers. What the Vengeance offers is a good, reliable e-MTB at a bargain price. This bike uses the same excellent Suntour HESC 250w hub motor found on the more expensive Vulcan model.
There are compromises, which given the price shouldn't bother users much. The battery capacity is only 317Wh, the disc brakes are mechanical (but they do the job) and it uses a cadence sensor as opposed to the active torque sensing system found on more expensive models. It is nonetheless a good budget ebike and worthy of consideration.
PROS:
Excellent Suntour HESC hub motor
Good sturdy construction
Excellent value
Good warranty with nationwide stores
CONS:
Low capacity battery
Mechanical disc brakes
Not suited to heavy off-road use
Read full review here
---
Carrera Crossroad Electric Road Bike
If you're after an electric road bike, you will not come close to the Carrera Crossroad in terms of sheer value. If you want a drop handlebar e-bike but don't want to fork out nearly £2000 for something like an Orbea Gain D50, then the Crossroad is hard to beat. At the time of writing there is nothing else in this category at this price.
There are compromises, which are to be expected. The battery only has a 310Wh capacity, but this will still get you around 40 miles maximum range. It is a little on the heavy side (for a road bike), but you still get the excellent Suntour hub motor with torque sensing pedal assist.  I've ridden it, and I think it's hard to beat at this price.
PROS:
Suntour HESC hub motor
Torque-sensing pedal assist
Feels solid
Great value
2 year Halfords Warranty
CONS:
Low capacity battery
A bit on the heavy side (for an e-road bike)
Read full review here
---
Carrera Subway E Electric Hybrid Bike
I can't think of a better urban, e-bike for the price, than the Carrera Subway E. For the price you get hydraulic brakes, smooth, torque-sensing pedal assist and a respectable 36v1 0.4ah battery (360Wh). This really is a great bike, and definitely one of my favourites in this selection.
This bike is well-built, with an alloy frame and Chro-Mo fork, it also uses decent Shimano 9-speed Altus gearing with a good range of gears. Another bonus is the addition of Tektro hydraulic disc brakes, making this one of the best all-rounders in its class.
PROS:
Smooth 250w Suntour motor
Torque-sensing pedal assist
Hydraulic disc brakes
Shimano Altus 9-speed gearing
Looks neat, feels solid
CONS:
Lower battery power than similarly-priced ebikes
Read full review here
---
Gtech Sport Hybrid Electric Bike
The Gtech Sport hybrid electric bike is another one of my favourites in this line-up. What I love about this e-bike is the minimalist design and lightweight. If you are looking for a cheap electric bike to use around town and want something that can be easily used with the assist on or off, the Gtech is hard to beat.
Having a lightweight single-speed e-bike, that uses the ultra-low maintenance gates carbon belt drive means no worrying about oiling chains or adjusting derailleurs – just get on it and ride!
Having a single speed won't suite everyone though, and the Gtech also has a low battery capacity, with a maximum range of around 30 miles on a single charge. If you live in an area with lots of hills, I would definitely go for a multi-geared ebike.
PROS:
Very lightweight design at only 16kg
Gates carbon drive is smooth, quiet and maintenance-free
Good build quality
Excellent value for money
CONS:
Single speed will not be suitable for everyone
Low battery capacity
---
Apollo Phaze Electric Mountain Bike
If you're after a cheap and cheerful e-bike to use for daily commutes of no more than 20 miles, then the Apollo Phaze electric bike from Halfords fits the bill perfectly.  The Phaze uses a simple front wheel 250w hub motor and 209Wh 24v battery.
Although it's described as a mountain bike, the Phaze is definitely more suited to pottering around town and maybe some very light off-road riding (we're talking canal tow paths). For the price of around £500 it is the cheapest e-bike in this selection, and even though it is of basic design, it actually does what it says on the tin!
The components are pretty much the norm on an ebike at this price – 6-speed Shimano gears, skinny forks and v-brakes. Nonetheless, the Apollo Phaze is a cheap entry into the world of electric bikes and it's backed-up by a 12 month warranty with support from your local Halfords store.
PROS:
Cheap and cheerful!
The 250w motor provides adequate assist
Ideal for shorter journey's
CONS:
Low battery capacity
Bargain basement components
Please don't take it anywhere near a mountain!
Read the full review here
Product
Specification
Deals

Summary
Removable Battery - Yes
Maximum Range - Up To 20 Miles
Recharge Time - 4-5 Hours
Whether ...
| | |
| --- | --- |
| BATTERY CAPACITY | 200+Wh |
| FRAME STYLE | Regular |
| MOTOR TYPE | Front Hub Motor |
---
B'TWIN Elops 900 E Classic Electric Bike
When it comes to good value electric bikes, Decathlon seemed to have hit the nail on the head! The B'TWIN Elops 900 E Classic has been one of their best sellers over the last year and I thought it only right to include it in this list.
The first thing you notice about the Elops 900 E is the retro styling, with the tan tyres with matching saddle and grips. It really is a nice looking bike. Beauty is, of course only skin deep but thankfully this bike offers more than its sub-£1000 price tag would suggest.
For your money you get a decent 250w rear hub motor with a very respectable 417Wh rack-mounted battery (that uses quality Samsung cells). On top of that, there are all the accessories you would ever need for a good commuter or recreational ebike. Mudguards, lights, pannier rack and kickstand.
It's also a very comfortable bike to ride, and the Shimano 7-speed gearing provides enough range for most hills. The mechanical disc brakes are okay, but the only week point (in my opinion) is the skinny front suspension fork – I would have stuck with decent ChroMo rigid forks on a bike like this.
PROS:
Excellent value for money
Decent motor and battery
Very comfortable
All the extras you will ever need
CONS:
Quite heavy at 24kg
Front suspension forks will not take much abuse
---
Xiaomi Himo C20 Electric Bike
Chinese tech giant Xiaomi have started to release some pretty good little e-bikes over the last couple of years, and one of their latest offerings – the Xiaomi C20 Himo is packet full to technology at a very reasonable price.
This compact electric bike, does partially fold (handlebars and pedals) but is not a folding bike in the true sense. Nevertheless, it can fit in the back of a car easily enough and can be taken on trains without too much hassle.
It comes with a 360Wh battery and a high-torque 250w rear hub motor. Another great feature not usually found in this price range is torque-sensing pedal assist.
The Himo C20 also benefits from Shimano 6-speed gearing, mudguards, lights and mechanical disc brakes. There is also an excellent display / control panel and even a tyre pump stored inside the seat post.
I have ridden one of these and I was really surprised at how smooth and refined it was. I haven't come across another e-bike at under £700 that comes close to this.
PROS:
Fantastic value at under £700
Great little motor
Smooth torque sensing pedal assist
Perfect for short commutes or city riding
CONS:
I can't find fault with the Himo C20 at this price!
Read full review here
Product
Specification
Deals

The Xiaomi Himo C20 is an excellent value ebike,  that uses some of the latest technology. It's practical and versatile design make it an ideal ...
| | |
| --- | --- |
| Part Number | SZGYB-HPUKDZ1126-PCL_018WOOI9 |
| MOTOR TYPE | Rear Hub Motor |
| BATTERY CAPACITY | 300+Wh |
---
Conclusion
Well, there you have it. The top 10 best electric bikes for under £1000. But is there a clear winner? For me it has to be Decathlon's Rockrider E-ST500 Electric Mountain Bike – it offers so much for the price it's ridiculous! I have ridden this bike and it feels solid, everything works as it should and early issues with the battery cutting out seemed to have been resolved. It's also quite capable off-road, thanks to those oversized 2.4″ tyres and half-decent suspension forks.
If you're looking for a swift urban commuter bike, then the Carrera Subway E electric bike is just excellent for the price.
All the other e-bikes on this list are great value and well made, it really depends on what you are looking for in an ebike. For more information, please check out our electric bike buyers guide.