In the last couple of years, sales of electric road bikes have soared. It was Giant that originally got the ball rolling a few years previous. For the benefit of this article, I will be looking at some of the best electric road bikes available.
What's the point of an electric road bike?
This is something I see quite often on various forums and comments, but I thought the answer would have been obvious – not all of us are in tip top condition, some of us have health problems that are just a natural part of the ageing process, and some of us may be recuperating from an accident, illness or injury. Why should we sit at home feeling sorry for ourselves when the open road beckons?
In my 4 years in the e-bike industry, I've seen people of all shapes, sizes and ages get back on two wheels when the odds were stacked against them.
Not everyone wants a heavy electric mountain bike or hybrid bike. An electric road bike can be a great way of easing yourself back into the saddle and giving yourself a good workout without the extra stresses and strains put on your joints and heart during long climbs.
The bottom line, is e-road bikes are good for cycling, they're good for the industry, and most importantly they are a great boost for riders who need a little assistance every now and then.
Even if you're a keen cyclist, but find long distance rides fatiguing or you simply want to get to work quicker on a hilly commute, the e-road bike is the perfect solution.
Why buy an electric road bike?
Electric road bikes are the lightest e-bikes available by a long stretch. The typical e-hybrid bike weighs in at around 20-25kg, when you compare that to the weight of a regular aluminium-framed road bike of around 9.5kg, that's more than double the weight.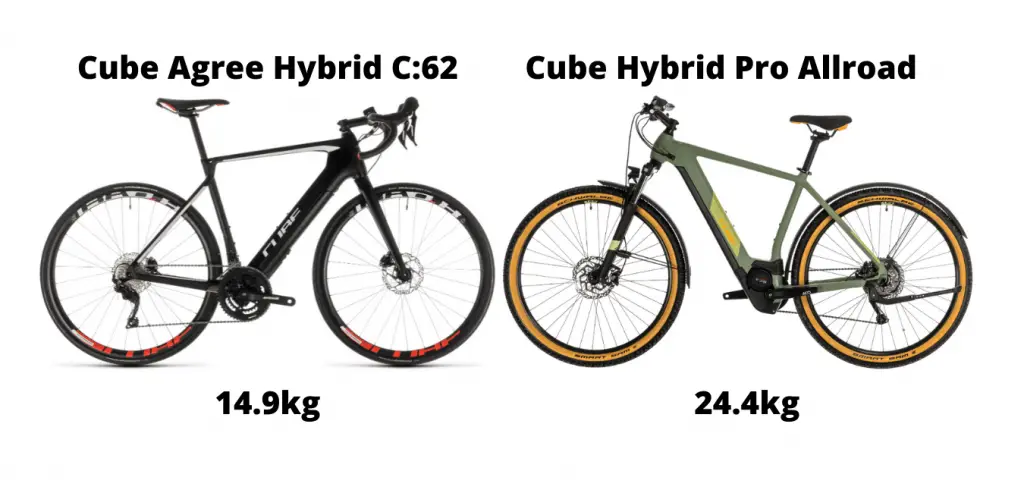 Even at the cheaper end of the scale, e-road bikes like the Orbea Gain D50 still weigh less than 14kg including the motor and battery.
E-Road bikes are also designed specifically to be easier to pedal when the power cuts-out at 15.5mph (25km/h). Small hub motors like the X35 ebikemotion system produce zero drag when not in assist mode, and faster rolling road-orientated tyres also help reduce drag.
I have ridden a high-spec electric hybrid bike and an e-road bike on the same day, and I can tell you the difference on the road is like night and day.  The transition from electric assist to pedal power (on the flat) is barely noticeable.
What if you could have the best of both worlds?
Ebike technology has come a long way in the last few years, and one of the pioneers of electric road bike drive systems is the German company Fazua. Their Evation e-assist system is a revelation!
The Fazua Evation system starts with a gearbox located in an enlarged bottom bracket area – this gearbox weighs in at around 1kg. Then you have the unit that drives the gearbox, along with a small 252Wh lithium battery pack – this part of the system weighs around 3.6kg.
Thanks to its clever modular design, the drive unit and battery can be removed in seconds, and a blanking plate fitted, effectively turning your e-road bike into a regular road bike, with the only weight penalty being the extra 1kg in the bottom bracket.
Lets take the Cube Agree Hybrid C:62 Race as an example: The total weight of this carbon-framed e-road bike is 14.9kg (including the drive system).  That is about the same weight as a regular steel-framed touring bike. When the motor is removed, the weight comes down to 11.3kg – still quite heavy for a road bike, by only but a couple of kilo's.
I have ridden various Fazua powered e-bikes (including the aforementioned Cube) and personally, I think the weight penalty is marginal. Unless you are entering competitive events, there's no need to have a second bike – you can have the benefits of an e-bike and regular bike all-in-one!
The only other ebikes I have seen the Fazua system fitted to are sporty hybrids, and these tend to be more like flat bar road bikes.
So what are the best electric road bikes in 2020?
The selection below includes something for everyone. There are now so many sub-divisions of road bike, like gravel / adventure bikes, endurance bikes, touring bikes it can all get a bit confusing. I've ridden all styles of road bike, and when it comes down to it, they all share common characteristics – particularly the drop handlebars and STi shifters.
For me the best electric road bikes offer versatility, and are not astronomically priced – for that reason, I haven't included anything over £4000 (which is still a hell of a lot of money for an ebike!)
Orbea Gain D50 Electric Road Bike
The Orbea Gain D50 was one of the first electric road bikes I had a ride on, and also one of the first to use the excellent Mahle X35 ebikemotion drive system. The great thing about the Gain is even the entry-level model weighs just under 14kg – the carbon-framed models are as light as 11kg.
PROS:
Lightweight
Looks like a regular bike
Excellent X35 ebikemotion drive system
CONS:
Entry-level groupset
Price increased, but not the specification
May not be powerful enough for some riders
Verdict
This Orbea Gain D50 model comes in at just under £2000, and although it's a great e-road bike for beginners, or those getting back into road cycling, all the components are entry level (in road bike terms) but the bike as a whole is great fun to ride, and it looks gorgeous! It's a shame they have increased the price for 2020, as I can't see any obvious changes in the specification from the 2019 model.

Read full review on ebikechoices.com
View all Orbea electric road bikes
---
Boardman ADV 8.9e Electric Adventure Bike

Set Lowest Price Alert
×
Notify me, when price drops
Set Alert for Product: Boardman ADV 8.9E Mens Adventure Electric Bike 2021 - S, M, L, XL Frames 439294 - £2,699.00
Boardman entered the e-bike world last year with an adventure bike and hybrid, both models have been very popular. The ADV 8.9e is, in fact the cheapest Fazua Evation-powered electric adventure bike currently on the market. Not only that, but it also has a very respectable specification for the money:
SRAM Apex 1 x 11 with an 11-42 rear cassette
SRAM Apex hydraulic disc brakes
Lightweight alloy frame with carbon fork
Schwalbe G-One Speed 700 x 38c tyres
PROS:
Cheapest Electric Adventure Bike
Excellent Fazua Evation drive system
Fairly light
SRAM Apex 1 x 11 groupset
2-year warranty with Halfords nationwide coverage
CONS:
The motor is not as powerful as regular mid-drives
Verdict
I've ridden this bike and it compares favourably with similar bikes that are considerably more expensive. Weighing in at just 16kg with the motor fitted, this weight can be reduced to 12.4kg with the drive system and battery removed. The Boardman ADV 8.9e is one of the best value electric road bikes in this selection, and definitely worth a look.

Read full review on ebikechoices.com
View all Boardman electric bikes
Product
Specification
Deals

OVERVIEW OF THE BOARDMAN ADV 8.9E Whether you want to ride further or faster or just want a little bit of help on the hills, an electric bike is a ...
| | |
| --- | --- |
| BATTERY CAPACITY | 200+Wh |
| FRAME STYLE | Regular |
| MOTOR TYPE | Mid-Drive |
---
Bergamont E-Grandurance RD Expert Electric Adventure Bike
The Bergamont E-Grandurance RD Expert bridges the gap between road, gravel and touring bike. The great thing about the Bergamont is, it has all the things you would expect on a modern touring bike, all wrapped up in a nice package, and at the very competitive price of just over £3200.
I liked this bike some much, that i'm seriously thinking about keeping an eye out for one (when the inevitable sales start). I'm a bit biased as I love bicycle touring, and the E-Grandurance isn't overly heavy with the Fazua Evation motor installed at 17kg. My vintage Dawes Galaxy isn't far off that, and it doesn't have a motor!
Another great thing about the Bergamont is the latest Shimano GRX groupset. I have listed the highlights of this bike below:
Shimano GRX 1 x 11 with an 11-42 rear cassette and 42t front chainring
Shimano GRX hydraulic disc brakes
Schwalbe G-One All-round 700 x 35c tyres
Mudguards
Pannier Rack
Lights
PROS:
Excellent spec for the money
Ready for touring
Shimano's latest 1 x 11 GRX hydraulic brake groupset with an 11-42 cassette
Looks gorgeous
CONS:
Aluminium fork
Slightly heavier than similar e-road bikes
Relatively low battery range may put off some buyers
Verdict
The Bergamont E-Grandurance RD Expert has a decent specification for the money. It's an e-road bike that can be used for touring and exploring and weighs only 13.4kg with the drive system and battery removed, making it a similar weight to modern unassisted touring bikes.

Read full review on ebikechoices.com
View all Bergamont electric road bikes
---
Ribble SL e Endurance Electric Road Bike
I was fortunate enough to have a go on one of these when a friend purchased one when they were first released. The Ribble SL e Endurance has a full carbon fibre frame and uses the X35 ebikemotion hub drive system with 252Wh integrated battery. I decided to ride the bike without the motor switched on for a good few miles in the hilly Cornish countryside, and if I hadn't have known it was an e-bike, I wouldn't have even realised I was riding one!
The Ribble is so lightweight, tipping the scales at under 12kg that the e-assist is only really needed to take the sting out of steep climbs (or keep up with your lights, fitter friends!).
It is available in a number of configurations from the entry-level Tiagra through to SRAM Etap and Shimano Dura Ace Di2.
PROS:
Ultra lightweight carbon frame
X35 ebikemotion drive system
Lots of options and configurations available
Very competitively priced
CONS:
Battery range may not be enough for some riders
Verdict
The Ribble SL e Endurance is a great e-road bike, from a legendary British company – if you're after a lightweight electric road bike, the Ribble SL e is hard to beat.

Read full review on ebikechoices.com
View all Ribble electric road bikes
---
Cube Agree Hybrid C:62 Race Electric Road Bike
Cube's Agree Hybrid C:62 is an excellent e-road bike that has a full carbon frame and Shimano's R7000 105 groupset with hydraulic disc brakes. The C:62 uses the Fazua system, and weighs in at only 14.9kg with the motor fitted and 11.3kg without. It is a great bike to ride and has a 34/50 compact crankset with an 11-32 cassette at the rear, giving a good range of gearing.
The 252Wh Fazua battery will give a potential assisted range of up to 50 miles, but this depends heavily on how much the assist is relied upon. When I had a ride on this bike, I only used the assist on inclines greater than 8% and found the middle assist mode to be more than adequate (but this will depend on the rider).
PROS:
Full Carbon frame
Removable Fazua drive system
Shimano 105 R7000 hydraulic brake groupset
CONS:
Comparatively low battery capacity
Verdict
The Cube is a well-made and nice looking e-road bike, everything is neatly integrated and I didn't notice the extra weight when riding unassisted.  Even though the price seems high, it is one of the cheaper fully carbon Fazua powered electric road bikes, and it's certainly worthy of a place on this list.

View all Cube electric road bikes
---
Giant Road E +1 Pro Electric Road Bike
Giant were the first major bicycle manufacturer to produce an electric road bike, and it was the first one I got to try out. The Road E +1 Pro is not particularly light when compared with the other bikes in this selection at 18kg, but it more than makes up for the extra weight with the fantastic Giant / Yamaha Sync Drive Pro mid-drive motor.
The torque this thing produces is remarkable, and it really does help the rider power up steep climbs without breaking into a sweat or getting out of breath. Out of all the e-road bikes I've ridden, the Giant is by far the most fun, it really does make you feel like a pro!
As with all mid-drive motors, the Giant uses a sophisticated torque-sensing pedal assist system, that is very responsive to rider input. The battery energy capacity is also substantially larger at 375Wh, giving a potential assisted range on between 80-100 miles.
PROS:
The Sync drive pro motor is a beast!
Excellent build quality
Great battery range
The most powerful e-road bike in its class
CONS:
Considerably heavier than other e-road bikes
Verdict
The Giant Road E +1 Pro is a great bit of kit and if you can afford it, it's guaranteed to put a smile on your face! A few people have said the Fazua and ebikemotion systems do not produce enough assist, and are more suited to riders who already have a reasonable level of fitness. With the Giant, this ceases to be a problem, and if you have a health problem that limits your ability to pedal hard, then the Road E +1 is an ideal solution.

Read full review on ebikechoices.com
---
Cannondale Synapse NEO SE 650b Electric Gravel Bike
The Cannondale Synapse NEO SE 650b is the only electric bike on this list to use the Bosch mid-drive e-bike motor. Its adventure / gravel riding credentials are immediately evident with the WTB Byway 650B x 47mm tyres and SRAM Apex 1 x 11 groupset.
Cannondale have a long history of producing excellent mountain bikes, and they have carried this forward with their latest generation of gravel bikes (including the NEO SE). This is an electric bike that is equally at home on the tarmac, forest trails or canal towpaths.
The Bosch Active Line Plus motor isn't as powerful as the CX motor, but it is smooth enough and produces a nice turn of power when needed, but it lacks the pulling power of the Giant / Yamaha Sync Drive motor found on the Road E +1.
On a plus note, the Active Line Plus motor is incredibly efficient. The 500Wh Powertube battery should give a potential range in excess of 100 miles (when used sensibly).
PROS:
Cannondale build quality
Rugged design
Excellent long-range integrated battery
Smooth Bosch mid-drive motor
SRAM Apex 1 x 11 groupset
CONS:
Heavier than other e-road bikes
Bosch CX motor would have been better
Verdict
Overall it's a great bike (if a little heavy at 18kg), and competitively priced at £3299. My only disappointment with this e-bike is Cannondale opted for the milder Active Line Plus motor, when they would have been better using the Performance Line CX motor – the CX motor produces 70Nm of torque compared with 50Nm for the Active Line Plus. That extra grunt would have come in handy when taking this bike off-road.

View all Cannondale electric road bikes
---
Focus Paralane 2 6.8 Disc Electric Road Bike
If your looking for an excellent endurance e-road bike, look no further than Focus Paralane 2 6.8 disc. The Paralane uses the excellent Fazua Evation motor which is neatly integrated into the Aluminium frame. The groupset is Shimano 105 R7000 disc with a 34/50 compact crankset with an 11-34 11-speed cassette.
The bike is finished off with a lovely DT Swiss RR521 wheelset shod in Continental UltraSport II 700 x 28c tyres for optimum comfort.
PROS:
Good all-round Endurance e-road bike
Fazua Evation ebike drive system
Shimano R7000 105 hydraulic brake groupset
A great looking e-bike
CONS:
Lower range from the 252Wh battery
Verdict
The Focus Paralane 2 6.8 Disc is a great e-road bike and is currently available from Sigma Sports at a reduced price of £2745, which is an absolute bargain, and well worth considering if you're after a capable, well-equipped electric road bike.

View all Focus electric road bikes
---
Lapierre E-Sensium 300 Disc E-Road Bike
Lapierre are another brand who I've always had a soft spot for. They have always made some great road and mountain bikes. Their E-Sensium 300 electric road bike is competitively priced considering the specification:
Shimano Tiagra R4720 hydraulic disc 10-speed groupset with 50×34 compact crank and 11-34 cassette
Lightweight alloy frame with carbon fork
Mahle X35 ebikemotion e-assist with integrated 250Wh battery
PROS:
Lapierre Style
Excellent value
Tiagra hydraulic brake groupset
X35 ebikemotion drive system
CONS:
Lower torque output may not suit some riders
Limited battery range
Verdict
The E-Sensium 300 weighs in at around 13.5kg – it's a nice looking and well-built bike and is definitely worth a look if you are after a decent spec, entry-level e-road bike.

View all Lapierre electric road bikes
---
Whyte Winchelsea Electric Gravel / Adventure Bike
Whyte are renowned for producing high quality mountain and road bikes, the Sussex-based company have recently expanded into e-bikes, and their range is impressive. The Winchelsea is one of two adventure-style road bikes available, the other is the Whyte Gosford.
PROS:
Rugged and versatile 'go anywhere' e-bike
Fazua Evation motor system
SRAM Apex 1 x 11 groupset with 11-42 cassette
Looks great
CONS:
Lower battery range than the heavier mid-drives
Verdict
The Winchelsea is not only a lovely looking ebike, but also a very capable one. Designed for the road less travelled, it has the classic adventure / gravel bike look with flared drops, and full SRAM Apex 1 x 11 hydraulic brake groupset. The Fazua Evation removable motor and battery, make the Whyte Winchelsea a truly versatile e-road bike.

View all Whyte electric road bikes
The Verdict – What is the best Electric Road Bike?
To be honest, there is no clear winner.  All of the bikes listed above have their own merits. One of my personal favourites is the Bergamont E-Grandurance RD Expert. For sheer power, the Giant Road E +1 Pro is untouchable, and the middle ground would be the Cannondale Synapse NEO SE electric gravel bike.
Ultimately the decision depends on your own personal requirements. If you need a lot of assist, I would be inclined to go for something more powerful like the Giant or Cannondale. If you just want an ebike to help with the occasional hill, then the ebikemotion or Fazua motor will do the job.
The e-road bikes listed above are only a small selection of what is available, I currently have nearly 50 different electric road bikes listed for comparison on this site.
Prices range from just under £1000 to over £10,000 – and everything in between, from manufacturers like Cannondale, Giant, Specialized and many more.
Conclusion
Electric road bikes are not only great fun to ride, but they are helping thousands of people realise their dream of getting back into the saddle, when a few years back it just wouldn't have been possible.
Make no mistake, the e-bike revolution is changing peoples lives for the better, and we should all embrace it. I was having a chat today with my local bike shop owner in Cornwall – Callington Cycles, and we were in agreement, that e-bikes are a positive force in cycling. Those who give up their cars in favour of an electric bike for the daily commute are generally  happier and  healthier as a result.
E-Road bikes are relatively new to the ebike world, but I can see them catching on in a big way, much in the same way electric mountain bikes have.
Thanks to e-bikes, physical limitations will no longer stop people from enjoying the benefits of riding a bike.
Ride safe!
Please feel free to leave a comment below and I will aim to respond within 24 hrs. Thanks for reading!