For some riders having the benefits of road bike speed combined with flat handlebars is a match made in heaven! I know quite a few people who just don't get along with drop bars. Thankfully flat bar e-road bikes are now widely available from most of the top brands. In this article I have selected 6 of the best flat bar electric road bikes currently available.
What are the advantages of flat bar road bikes?
Most flat bar road bikes share the same frame, forks and wheels as their drop handlebar counterparts. The only real noticeable difference is the handlebars, brake levers and gear shifters. Drop bars have an obvious advantage when it comes to speed, but if you're riding in an urban environment it's unlikely to be much of an issue.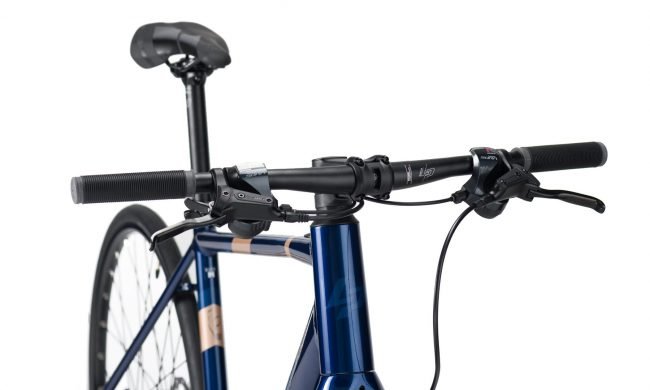 Aerodynamics don't really come into play until you reach speeds above 12.5mph (20km/h) and some riders just don't feel comfortable riding on the hoods.
Another advantage of flat handlebars is the relative ease of changing or swapping out components like shifters or brakes. On a regular road bike you need to buy and fit new bar tape when changing things, but on a flat bar bike, it's just a case of removing the grips.
Here is my list of the top 6 best flat bar electric road bikes
---
Orbea Gain M30F Flat Bar Electric Road Bike
The Orbea Gain M30F flat bar electric road bike is a great way to experience the benefits of having e-assist but without the excess weight usually associated with e-bikes. The specification on the M30 is similar to its drop-handlebar sibling, with a Shimano 105 groupset featuring a 50/34 compact crankset with an 11-32 11-speed rear cassette, Shimano SLX M7100 flat-mount hydraulic brakes. Wheels are Fulcrum E-Racing 900 shod in Schwalbe One 700 x 30c tubeless-ready tyres.
It's light, nimble and fun to ride. Whether you choose to use the assist or not the Orbea flies!

Shimano's excellent 105 groupset
X35 ebikemotion drive system
250Wh internal battery
Shimano SLX M7100 hydraulic brakes
Full carbon frame and fork
Fulcrum E-Racing 900 wheelset with Schwalbe One tyres
Up to 50 miles assisted battery range
Verdict
The Orbea Gain M30 is an excellent option if you want the fast-rolling and nimble handling of a road bike but without drop handlebars. The X35 ebikemotion e-assist system is just sublime. If you want an e-bike that has the aesthetics and feel of a regular bike, the Orbea Gain M30 ticks all the boxes.

PROS:
Looks gorgeous
Very lightweight at under 12.5kg
Excellent X35 ebikemotion hub motor
Great value for money
CONS:
The motor may not provide enough assist for some riders
Comparatively low battery range
---
Lapierre E-Sensium Flat Bar E-Road Bike
Lapierre have been producing excellent e-MTB's for a few years now, and have recently released a range of electric road bikes. The E-Sensium 200 is the flat bar version of their 300 drop-bar model. This uses Shimano Sora 18-speed with hydraulic brakes and it's an absolutely gorgeous bike. It's marginally more expensive than the Orbea Gain F30, but it does have a slightly higher spec groupset. The E-Sensium uses the same X35 ebikemotion system as used on the Gain and many other electric road bikes. My only criticism is it's nearly 1kg heavier than the Gain.
The E-Sensium rides as well as it looks. That metallic gloss finish is just superb, and it feels fast and responsive on the road.

X35 ebikemotion e-assist system
250Wh internal battery
Shimano Sora 18-speed groupset with 11-34 cassette
Tektro HD-R280 hydraulic brakes
Continental Ultra Sport II 700 x 28c tyres
Alloy frame with carbon fork
Verdict
The Lapierre E-Sensium 200 is a good alternative to the Orbea Gain at this price point. The quality of the finish is superb, with a lovely smooth-welded alloy frame and lovely deep blue gloss paint finish. It rides very well and despite its heavier weight it still feels very nimble and responsive. The hydraulic brakes inspire confidence and the Shimano Sora gears work a treat.  The X35 ebikemotion does what is does best and provides subtle, but useful assist when needed.

PROS:
Excellent build quality
Great brakes
Smooth and subtle assist from the X35 system
Responsive handling
CONS:
Nearly 1kg heavier than the Orbea Gain
Narrower tyres not as suited to rough terrain
Read the full Lapierre E-Sensium 200 review on ebikechoices.com
---
BMC Alpenchallenge AMP Sport One Electric Bike
There aren't many flat bar electric road bikes that can match the BMC Alpenchallenge AMP Sport One in terms of sheer performance. The BMC Alpenchallenge AMP Sport One is the first flat bar electric road bike in this selection to boast a full-carbon fibre frame. This is one hell of an e-bike, and unique in that it blends a powerful Shimano Steps E-6100 mid-drive motor with a carbon road bike frame and Shimano 105 1 x 11 groupset.  The result is a powerful (but light) e-bike that has an impressive potential battery range of 80+ miles.
Ride the BMC Alpenchallenge AMP Sport One and fail not to be impressed. This is an e-bike that is not only light, but also powerful and highly efficient.

Shimano Steps E-6100 mid-drive motor
504Wh battery
Full carbon fibre frame with MTT micro suspension
DT Swiss wheelset
Shimano 105 1 x 11 groupset
Verdict
Admittedly, the BMC Alpenchallenge AMP Sport One is the most expensive bike in this line-up, but the tech that's gone into this bike is amazing! This e-bike has been so well thought out that, in my opinion it offers the best balance between ride, weight, performance and battery range. The addition of the MTT micro suspension really makes a difference when riding on 'not so perfect' road surfaces. A really great flat bar electric road bike.

PROS:
Full carbon frame
Shimano Steps E-6100 motor is a gem
Great battery range from the 504Wh battery
The MTT micro suspension takes the sting out of road imperfections
Lightest 'proper' mid-drive
CONS:
Expensive (but worth it if you have the money!)
---
Giant Fastroad E +2 Pro E-Bike

Set Lowest Price Alert
×
Notify me, when price drops
Set Alert for Product: Giant FastRoad E+ 2 Pro 2021 Aluminium Electric Road Bike Glitter Grey - £0.00
Giant's Fastroad E +2 Pro is an excellent alternative to the Road E + if you do not like drop handlebars. The centrepiece of this e-bike is the remarkable Giant Sync Drive Pro mid-drive motor, which is the culmination of a collaboration between Giant and Yamaha, to produce an electric motor unique to Giant's range of ebike's. Combined with a powerful 375Wh battery. The rest of the bike is typical of the quality we have come to expect from one of the worlds biggest bicycle manufacturers. Shimano Tiagra 10-speed, decent hydraulic brakes and a frame that is relaxed enough for cruising, but also delivers the goods when a bit of speed is required.
Riding the Giant Fastroad E+ is an absolute joy! There's nothing like that bionic feel you get in your legs when riding one of these in boost mode.

Giant Syn Drive Pro with 80Nm of torque and 360% tunable assist
375Wh EnergyPak battery
Shimano Tiagra 1 x 10 with an 11-32 cassette
Shimano MT201 / BR-U300 hydraulic disc brakes
Maxxis Re-Fuse 700x32c Folding MaxxShield tyres
Verdict
Despite its considerable weight (when compared with the competition) the Giant is guaranteed to make you smile from ear to ear! If it is sheer grunt you are looking for then the FastRoad E+2 Pro is head and shoulders above the competition. The 80Nm of torque provided by the excellent Sync Drive Pro motor will get you up the steepest of climbs with minimal effort. And, if used sensibly the efficiency of the motor / battery combo will enable a potential range of nearly 100 miles. I love this bike, it's definitely one of my favourites.

PROS:
Ride it and be impressed – the motor is a gem!
Feels planted – the ride inspires confidence
Typical Giant quality
Class-leading battery range
CONS:
Much heavier than the competition at nearly 19kg (as tested)
Read the full Giant FastRoad E+ 2 Pro review on ebikechoices.com
Product
Specification
Deals

Summary The Giant FastRoad E+2 Pro is a fast and agile E-bike that features flat-bar positioning for comfort and control. With hydraulic disc ...
| | |
| --- | --- |
| BATTERY CAPACITY | 300+Wh |
| FRAME STYLE | Regular |
| MOTOR TYPE | Mid-Drive |
---
Rose Bikes Backroad+ Fitness
The Rose Bikes Backroad+ Fitness is a lightweight flat bar road bike featuring Shimano's excellent EP8 mid-drive motor, wrapped up in a sleek carbon fibre frame. Weighing in at just over 15kg, the Backroad+ Fitness is going to be great fun to ride. There's an internal 360Wh battery to keep the weight to a minimum. This bike just oozes quality with Shimano XT components and DT Swiss wheelset.
This is the first time I've seen the EP8 motor in a lightweight frame – I can only imagine what fun the Backroad+ Fitness is to ride!

Shimano EP8 motor
360Wh internal battery
Shimano MT201 / UR300 flat-mount hydraulic brakes
Shimano XT derailleur with SLX 11-speed shifter
Full carbon frame and fork
DT Swiss E1800 wheelset
Up to 60 miles assisted battery range
Verdict
For those of you unfamiliar with the Shimano EP8, it's their flagship e-bike motor and usually only reserved for high-end e-MTB's. It produces a whopping 85Nm of torque with up to 400% assist. Having this motor in a frame as light as this must make for exceptional performance and a whole load of fun! The EP8 produces 36% less drag than the old E8000 unit and can be custom-tuned using Shimano's E-Tube app. The Rose Bikes Backroad+ Fitness is a fast and versatile e-bike capable of being ridden on the road or gravel tracks.

PROS:
Shimano's excellent EP8 mid-drive motor
Lightweight at 15kg
Looks great!
High quality components
Versatile – can be ridden on road or gravel
CONS:
Unfortunately quality comes at a premium price
Not currently available for UK shipping (only EU countries)
---
Ribble SL e Flat Bar Carbon Electric Road Bike
I fell in love with the Ribble SL e when I first had a ride on one back in 2018. It's nice to see they have released a flat bar version based around their popular carbon fibre electric road bike. The SL e flat bar with Shimano Ultegra offers a superb package that tips the scales at a measly 11.8kg. Everything on this bike screams quality and the great thing is you can ride it all day and not even realise you're riding an e-bike until such a time as you need a little help if your legs start to tire.
Very fast flat bar e-road bike that has top-level Shimano Ultegra combined with a super light carbon frame.

Toray T800/T1000 Full Carbon Monocoque frame
Shimano Ultegra 50/34 with 11-28 cassette
X35 ebikemotion e-drive system
250Wh internal battery

Mavic Aksium Elite Evo wheelset with Mavic Yksion Pro UST 700x28c tyres
Verdict
Flat bar electric road bikes are becoming increasingly popular, and the Ribble SL e version is nothing short of stunning. This is by far the lightest e-bike in its class and boasts Shimano's excellent Ultegra groupset all wrapped up in a stunning carbon frameset. Ribble have been quick off the mark to quickly establish themselves in the electric bike market as purveyors of excellent, high quality bikes that are hard to beat. And the fact they are a British brand is the icing on the cake!

PROS:
Lightest is its class
X35 ebikemotion system is light and unobtrusive
Shimano Ultegra Groupset
Looks beautiful
Responsive and very quick
CONS:
Expensive (but justified)
Low capacity battery – range extender available
Not currently available – Visit Ribble Cycles for more options
---
Conclusion
So what is the best flat bar electric road bike in this selection? To single out a single victor wouldn't be particularly fair as all the bikes tested in this article are great.
It really boils down to your budget, personal ability and needs. If money was no object for me I would personally go for the Rose Bikes Backroad+ Fintess – the Shimano EP8 motor is an absolute powerhouse, and it's also very smooth and efficient. Having that motor in a lightweight carbon frame would be the deal clincher for me.
If you're looking for sheer power and maybe need a little more assist, then the Giant Fastroad E +2 Pro is unbeatable in this class – their Sync Drive Pro motor is one of the best mid-drives fitted to any ebike.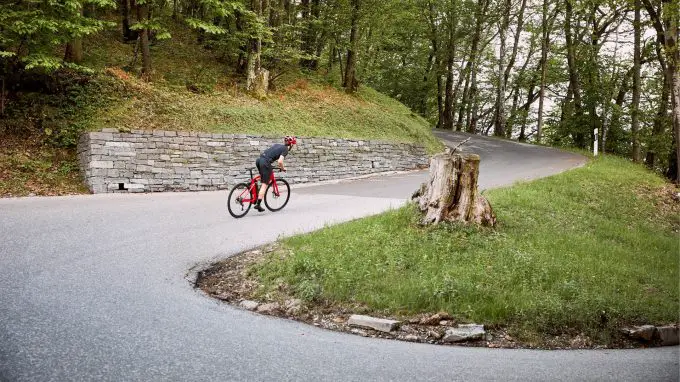 For the budget-conscious both the Orbea Gain F30 and Lapierre E-Sensium 200 are very similar in terms of price, specification and ride quality, although I would have to give preference to the Gain due to the lower weight. Although the Lapierre looks absolutely gorgeous.
Finally we have the BMC Alpenchallenge AMP Sport One – this would be vying with the Ribble for the number one spot. Having a full carbon frame with micro travel suspension and a Shimano Steps mid-drive motor is a great combination. Having a massive 504Wh battery means you can ride this thing for miles and just leave the assist on, so  if your route is hilly and you need to reduce fatigue, it's excellent.
Thanks for reading, and if you own any of the bikes reviewed here, please feel free to share your views in the comments section below.
View and compare all flat bar electric road bikes here