Electric bikes or e-bikes as they are commonly known, are experiencing a massive rise in popularity in the UK and Europe. In our electric bikes buyers guide, we will go through the different types available and go into more detail about why we think ebikes are great!
---
What is an Electric Bike?
An e-Bike is basically a regular bicycle that has been designed to incorporate a small electric motor and a lithium battery pack. The motor is designed to provide varying degrees of pedal assistance, making cycling much less strenuous (particularly on hills).
The idea behind the electric bike is simple: Make cycling more accessible and enjoyable, whilst at the same time providing some of the health benefits of riding a regular bike.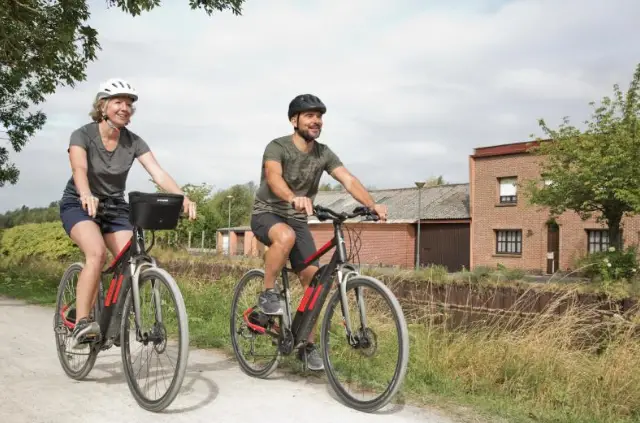 In the UK and EU all road legal electric bikes are 'pedal assist', which means that the motor will start to work as soon as you apply force or rotate the pedals. These small electric motors make cycling much easier, particularly if you live in a hilly area.
In order to be road legal in the UK or Europe, an electric bike's motor must be limited to 15.5 mph or 25 km/h with a continuous power output of no more than 250 watts.  All or the major ebike manufacturers adhere to these regulations, although there are some electric bikes listed on this site that produce more power than this and are intended for use on private land only.
Anybody over the age of 14 can ride an electric bike without needing a license, tax or insurance.
---
Why use an Electric Bike?
There are many different reasons why people choose to use an electric bike. For me it was part of an important lifestyle change, getting fitter and loosing weight.
Hills
If you live in a very hilly area (like I do) cycling anywhere on a regular bicycle can be challenging. Having electric assist will help you ride further for longer. It will also help to remove any anxiety or mental roadblocks you may have, making it much more likely for you to go cycling.
Improve your fitness
A lot of cyclists choose an electric bike because they enable you to ride further and at a quicker average speed than your fitness level may allow. That's not to say you won't get fit riding an e-Bike. Quite the opposite in fact – the chances are, if you own an electric bike you are likely to use it more often than a regular bike, and the very act of turning the pedals will help improve your cardiovascular health and general well-being.
A recent scientific study has suggested that riding an ebike regularly can be just as beneficial as riding a regular bike [source].
Health Problems
Riders with health problems can see drastic benefits from riding e-bikes. In my five years in the electric bike industry, I have supplied and built bikes for customers with health issues ranging from knee problems and Arthritis through to Multiple Sclerosis and people recovering from serious injury or Chemotherapy.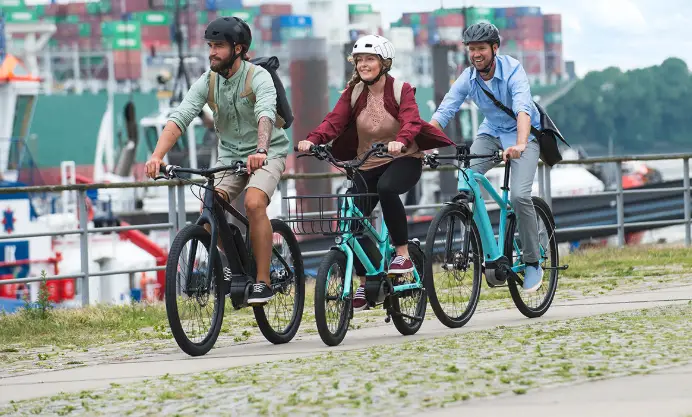 Electric bikes can, and do drastically improve quality of life – being able to enjoy the outdoors can also have an incredibly positive effect on mental health. Check out 5 tips to help you lose weight riding an electric bike.
Electric Bikes for Commuting
One of the big problems with commuting by bike is turning up to work sweating. If your place of work doesn't have facilities like showers and changing rooms then the thought of smelling sweaty all day has little appeal for you and your work colleagues.
If you use an electric bike for commuting, then not only will you get to work faster (if your route is hilly), but you will also be feeling fresher.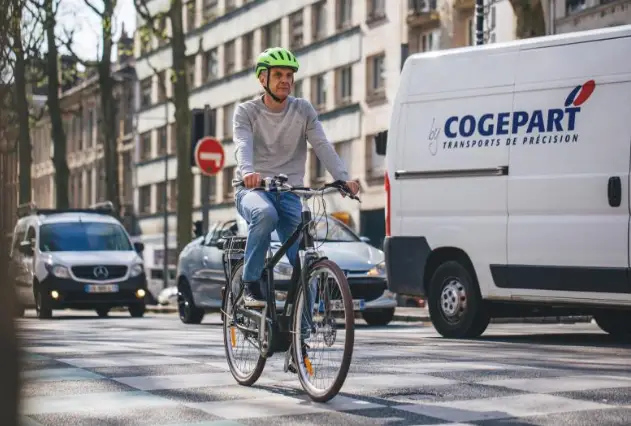 Another big benefit to using an ebike for your daily commute is you will save money on fuel, and spend less time stuck in congested traffic. Plus the moderate exercise you will have everyday will improve you general fitness. Using an e-bike for your daily commute is a win, win!
More off-road fun
Electric mountain bikes or e-MTB's are more popular than ever, with even previously anti-ebike mountain bikers turning in their droves to electric assist. With an electric mountain bike you can fly up the steep climbs so you're ready for the descents. You can use the energy you save to stay riding the trails for longer.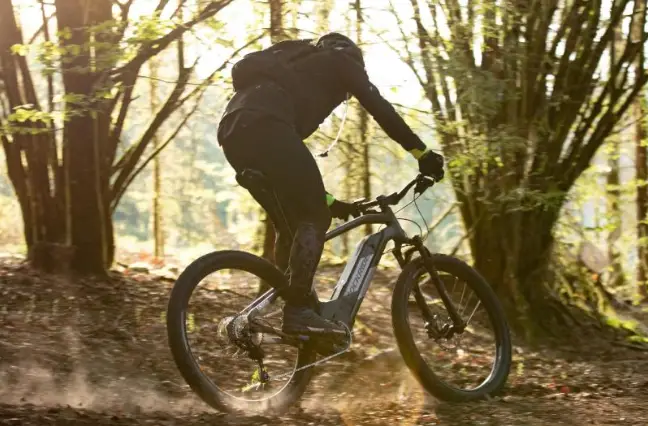 E-MTB's are great fun for the recreational rider. But Pro enduro riders can also use electric mountain bikes so they can focus their effort on hammering the descents.
Can kids use electric bikes?
It's difficult for people of my generation to understand why kids would want to ride an electric bike. After all, when I was young, we cycled everywhere and were always out on our bikes. Unfortunately the world has changed a lot in the last 20 years and children today need real guidance and encouragement to get outside.
There are way too many distractions and the combination of smart phones and easy access to fast food has lead to an alarming rise in childhood obesity and related health problems.
The electric bike could go along way in helping unfit kids get back on two wheels and make cycling fun again. I think there's a lot of potential in this relatively new e-bike market. For more information check out my article featuring 8 of the best electric bikes for kids (and the potential benefits of kids using electric bikes).
---
Which type of Electric Bike is best suited for me?
The answer to this question really depends on a number of factors.  Buying an electric bike is usually an expensive purchase, so you really want to get it right the first time round.
When deciding which type of electric bike is best suited to you, you need to consider a few things:
What will you be using your ebike for? – getting fitter, off-road riding, commuting or touring.
Your anticipated average mileage (see battery range).
Any current health problems you may have – do you need a low-step frame or a high-torque motor?
Your budget – only spend what you can afford. Most retailers offer finance, but can you pay it back?
Your size – getting the right size bike is important, especially if you're doing longer rides.
Battery range – This is important, as you don't want to be running out of power when you still have a few big hills to climb. Pedalling a heavy ebike uphill is not fun (believe me, I've been there!) – it's better to have it and not need it, than need it and not have it.
Discipline – Hardtail or Full-suspension mountain bike, Gravel, Adventure road bike. You may like mountain biking or fancy getting into road cycling or a bit of both. Thankfully there are electric bikes cater for all disciplines.
Comfort – If you just want to cruise around town in a nice upright riding position, then a good urban hybrid would do the job. Comfort is important, if you have back pain the last thing you want is to be hunched over on a road bike.
Considering all the above, it may be worth going to your local bike shop for a bike fit. Find out the best size for your build. We're all different and just because a sizing guide says you need a certain frame size, doesn't necessarily mean it will be suitable. Some of us have long legs and short arms or visa versa, others have a longer torso.
Below I have listed the three main types of electric bike. There are sub-categories within each. For example, road bikes have the sub-category adventure / gravel bikes, and hybrids can be sporty or utilitarian.
Why not convert a bike you already own? Check out the Best Electric Bike Conversion Kits Here
---
Electric hybrid bike
How does an Electric bike work?
An Electric bike works by using a small motor to provide extra assistance to the rider as and when needed. In the UK, Europe and other countries, this assistance can only be activated by pedalling and cannot be used independently i.e. 'throttle control'.
There are several key components to the ebike system, the most important of which are the motor and battery. There are two different types of motor employed in an electric bike – a hub motor and mid-drive or crank motor.
Hub Motor
Hub motors are usually fitted in the front or rear wheel (in place of the wheel hub), when the pedal assist sensor is activated a small direct current motor is activated, which in turn drives the wheel and gives the rider the extra assistance needed.
Hub motor technology is now quite dated, and usually found at the budget end of the scale. Although high-tech hub motors like the X35 ebikemotion have re-invented the hub motor and are so small and light as to be barely noticeable.
Mid-Drive Motor
Mid-Drive or Crank motors are fitted into specially designed frames in the area you would usually find the bicycle crank and bottom bracket. These types of motor are usually much more sophisticated and efficient than their hub motor counterparts.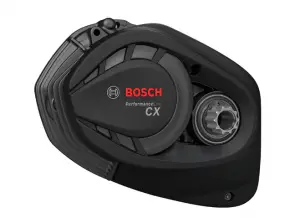 The drive the rear wheel directly through the chain and they usually use torque and cadenced based pedal assist. This means the brains of the motor measures pedalling force and speed (cadence) – this produces a very natural feel, and can make the rider feel like they have suddenly acquired super strong legs.
Mid-drive motors are definitely the future, and I can see a time when all electric bikes utilise them.
Pedal Assist
Both hub motors and mid-drive motors use pedal assist technology. At its most rudimentary you have cadence pedal sensors, that simply sense the movement and speed of the pedals. These make the motor behave very much like an on/off switch. It is common to find cadenced-based pedal assist on cheap electric bikes.
Torque sensing pedal assist provides a different sensation altogether and makes the rider feel like they have been enhanced. Torque sensing systems measure the amount of force being applied to the pedals and provide assistance in proportion to this force, making for a very natural riding experience.
Most torque sensing pedal assist systems are also complemented with cadence and speed sensing to provide the best and most efficient assistance possible at all times.
Electric Bike Battery
The motor cannot function without a source of power, making the electric bike battery the most important component.
Battery energy capacity is measured in Wh (watt hours) and Ah (amp hours). To get the total energy capacity you need to multiply the nominal voltage (V) by amp hours (Ah). For example a typical 36v 11.6Ah battery will have a total energy capacity of 417 Wh.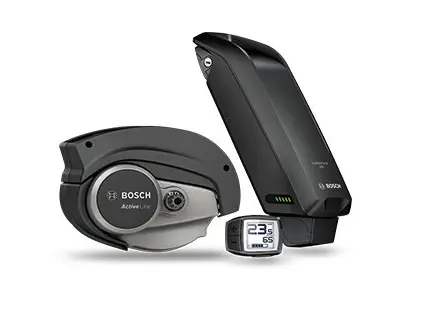 So how do you work out battery range from the above? This is very difficult, you can only ever give an approximate range as there are way too many variables to consider. Just for starters see the list below:
Rider weight
Wind direction
Weight of bike
Rolling resistance of tyres (and tyre pressure)
Road surface
Topography (hills and terrain)
Amount of power assist used – e.g. Eco / Tour / Boost
To give an example, an 80kg rider, riding an electric bike that is consuming a constant 10 Wh per mile will deplete the above battery in 41.7 miles. If that same rider was using double the power, then the battery would be empty in around 20 miles.
Bosch have kindly provided a very good battery range calculator for their ebike motors – this will give you an approximate range based on a number of metrics.
Basically the higher the Wh rating, the greater the potential range – I have squeezed 120 miles and 11,000ft of elevation out of a 36v 13Ah (468Wh) battery in the past,  but I only used ECO mode, and only used assistance on hills steeper than 4% gradient.
For more information on electric bike batteries, check out this post on our sister site ebikechoices.com
Summary
Electric bikes are great! I love them, and in a way, I owe my life to the electric bike. Maybe that is why I'm so passionate about them.
In my forties, I was obese, my diet was poor, I did no exercise. As a result, I had a wake-up call. I started riding an ebike regularly in 2016. In 2017 I made the move to a regular unassisted road bike. Since then, I have covered over 10'000 miles and lost nearly 5 stone in weight (about 31kg).
At the end of 2019, I went for my annual check up with my GP. At 50 years of age, I am the healthiest I have been since my teenage years.  My first electric bike was the catalyst I needed to get myself back on track.
E-bikes are the future – they are good for the environment, and they're great for health and fitness. Every single person I know who owns an electric bike, loves every minute of riding.
If you need any advice on purchasing an ebike, please don't hesitate to contact me. Happy riding!