In this article, I'm going to be taking a closer look at the range of electric bikes available from Fiido, and share with you the latest deals available direct from their website. Fiido produce a range of high-quality, affordable e-bikes, ranging from the diminutive D3 Pro through to the versatile T1 cargo e-bike. Below, I've listed their most popular models in order of ascending price.
---
Fiido D3 Pro Folding E-Bike
Starting off with the Fiido D3 Pro, this is Fiido's cheapest e-bike at just under $700. It's aimed at 'last mile' commuters, students or anyone looking for a quick and easy way to get around. Featuring a 36v 7.8Ah battery and 250w motor it's fairly light at 17.5kg and folds down quickly to a manageable size. The D3 Pro has all the features of bigger folding e-bikes like mudguards, disc brakes and lights.
PROS:
Very cheap at under $700
Fairly lightweight for an e-bike
Compact in size
Folds quickly
---
Fiido D2S Compact Folding E-Bike
The Fiido D2S is the next model up from the D3 Pro, and comes in at just under $800. For the extra money you get even more versatility. The motor and battery are the same, but you get 6-gears, 16″ wheels and a rear suspension unit. It's also aimed at students and commuters, but is a bit more forgiving than the D3 Pro, especially if you have hills or rougher ground on your journey
PROS:
Great value for money
6 Gears
16″ wheels
Rear suspension unit
CONS:
Heavier than the D3 Pro
Small capacity battery
---
Fiido L3 Long-Range Folding E-Bike
The Fiido L3 is in a class of its own. There's no other folding e-bike that boasts a massive  48v 23Ah battery – not even close! One of the main issues with folding electric bikes, is they usually have small batteries, and as such limited assisted range. The Fiido L3 bucks the trend in not only voltage (48v) but total energy capacity (a massive 1113Wh). For under $1000 it's unbeatable value for money and is great for long commutes. The claimed range is up to 125 miles – I think this is optimistic, although may be possible with a light rider, using the lowest assist level on flat ground. I reckon a realistic range is going to be around 70-80 miles which is still great!
PROS:
Massive battery capacity
Great value
Comfortable
48v motor
CONS:
Battery makes bike very heavy
Only a single speed
---
Fiido M1 Pro
The Fiido M1 Pro is a quality, folding fat tire e-bike available for the bargain price of under $1300. With 4″ wide knobbly tires, it's designed to handle riding on sand, mud or even snow. It will also be great for commuting, as the large tires combined with front and rear suspension will smooth out the roughest of road surfaces. The M1 Pro features an integrated 48v 12.8Ah battery powering a 500w geared rear hub motor.
PROS:
Fat tires
Front and rear suspension
Comfortable riding position
Powerful 500w motor
CONS:
Very heavy
Bulky when folded
---
Fiido D11 Folding Electric Bike
The Fiido D11 is a sleek and lightweight folding e-bike aimed at commuters and leisure riders. It features a neat 36v 11.6Ah seatpost battery and a smooth 250w hub motor. It shares a very similar frame design with the more expensive X model (featured below). It doesn't have the high-tech features of the X, but is a great option if your budget is under $1000.
PROS:
Sleek frame design
Seatpost battery
Fairly lightweight
Folds quickly
---
Fiido D21 Folding Electric Bike
The Fiido D21 is priced halfway between the D11 and X. It has torque-sensing pedal assist (like the X), but has mechanical disc brakes, no security keypad and wireless battery connection. It has the same smooth motor and feel of the X without the extra refinements – perfect if you don't really need these extra features and want to save a bit of money.
PROS:
Torque-sensing assist
Smooth motor
Seatpost battery
Folds quickly
---
Fiido X Folding Electric Bike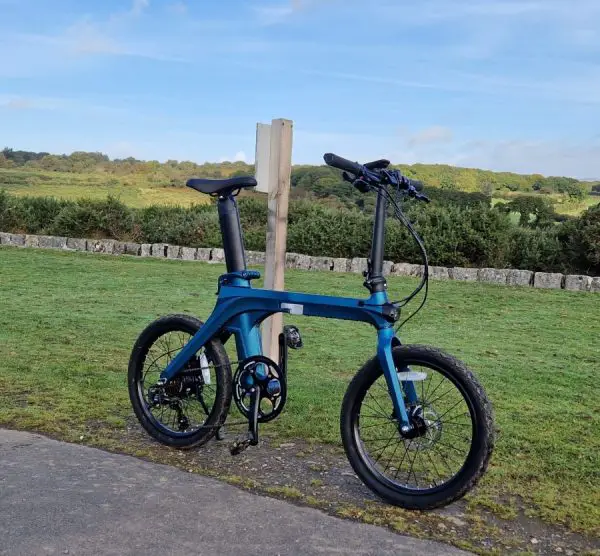 The Fiido X is my favourite e-bike in their range. I'm a little biased as I own one of these, and ride it almost daily. It's awash with high-tech features not usually found on any folding e-bike, and has even won design awards. The styling is definitely futuristic and a nod to the tech that lurks underneath. A smooth and silent hub motor, activated by efficient torque-sensing pedal assist makes the Fiido X a joy to ride! Battery range is impressive – I can get 50 miles between charges using level 1-2 assist. If you're looking for a small e-bike that rides exceptionally well, I can highly recommend the Fiido X. For more info, read my Fiido X review over at ebikechoices.com
PROS:
Torque-sensing assist
Futuristic styling
Wireless battery connection
Hydraulic brakes
Very quiet and smooth motor
CONS:
I find the keypad a tad annoying
---
Fiido T1 Electric Cargo Bike
The Fiido T1 is their affordable electric cargo bike. For the price, it's got a great specification and features a very powerful 750w hub motor with large 48v 20Ah battery (960Wh). It benefits from a step-through frame design, making it accessible to riders of all ages and abilities. Plus, it has a comfortable, upright riding position.
Gearing it 7-speed Shimano and the T1 rocks 4″ fat tires with the added bonus of front suspension forks. On the cargo end, there's a large front basket and heavy-duty rear cargo rack.
I really like the design of the Fiido T1, it's a very viable alternative to the Rad Power RadRunner Plus and has great potential as a commuter or shopping bike.
PROS:
750w hub motor
Very powerful battery
Step-through frame design
Comfortable riding position
Cargo rack and basket
4″ wide fat tires