Tongsheng TSDZ2 36v 250w Electric Bike Conversion Kit
This product is available at AliExpress, Amazon.co.uk, BangGood.com, eBay.
At aliexpress.com you can purchase Tongsheng TSDZ2 Electric Bicycle Ebike Conversion Kit 36V 48V 52V TS Mid Motor Engine With BB 68 MM Length for only £293.88, which is 33% less than the cost in BangGood.com ($440.99).
The lowest price of [EU Direct] TongSheng TSDZ2 36V 350W Electric Bike Mid Drive Motor with VLCD5 Screen 42T Discs Bicycle Conversion Accessories was obtained on May 31, 2022 4:12 am.
£293.88
Best deal at:

AliExpress
Visit Website
Set Lowest Price Alert
×
Notify me, when price drops
Set Alert for Product: Tongsheng TSDZ2 Electric Bicycle Ebike Conversion Kit 36V 48V 52V TS Mid Motor Engine With BB 68 MM Length - £293.88
Price history
×
Price history for Tongsheng TSDZ2 Electric Bicycle Ebike Conversion Kit 36V 48V 52V TS Mid Motor Engine With BB 68 MM Length

Latest updates:

£293.88 - June 4, 2022
£296.14 - June 2, 2022
£263.62 - May 31, 2022
£265.46 - May 23, 2022
£267.07 - May 22, 2022
£272.70 - May 14, 2022
£269.40 - May 10, 2022
£266.33 - May 4, 2022

Since: December 29, 2021

Highest Price: £296.14 - June 2, 2022
Lowest Price: £188.41 - January 5, 2022
Last Amazon price update was: June 4, 2022 1:27 am
×
Product prices and availability are accurate as of the date/time indicated and are subject to change. Any price and availability information displayed on Amazon.com (Amazon.in, Amazon.co.uk, Amazon.de, etc) at the time of purchase will apply to the purchase of this product.
AliExpress for shipping to EU countries
Add to wishlist
Added to wishlist
Removed from wishlist
1
Last updated on June 4, 2022 8:35 am
Tongsheng TSDZ2 36v 250w Electric Bike Conversion Kit
Description
The Tongsheng TSDZ2 has grown over the last few years to become one of the most popular DIY mid-drive e-bike conversion kits. The two main advantages the Tongsheng has over the Bafang is the price and the fact it uses a 'torque-sensing' pedal assist which provides a much more natural feel to the rider.
Having an affordable DIY e-bike motor option like the TSDZ2 is great – the torque-sensing pedal assist is as close to a Bosch or Shimano Steps motor you'll get but for a fraction of the price!

Summary
I'm a big fan of the Tongsheng TSDZ2 mid-drive conversion kit. Having installed over 30 of these motors over the last couple of years, they've proven to be very popular with customers and seem to be generally reliable.
As with its main competitor (the Bafang) the TSDZ2 will fit a majority of regular bicycles with a few exceptions. Providing your bike has a standard BSA threaded bottom bracket  then installation should be fairly straightforward for the competent DIY enthusiast.
Torque-sensing pedal assist
What really sets the Tongsheng TSDZ2 apart from its rival is the excellent torque-sensing pedal assist. This is usually only found on 'high-end' e-bike motors like the Bosch, Brose and Shimano Steps. The pedal sensor works by measuring the amount of force being applied to the pedals when you ride and giving you assist based on how much effort you put in.
This translates to a very natural and intuitive feel – if you're riding on the flat at a high cadence with a nice tailwind, the motor won't be assisting much but the minute you get to a hill or ride into a strong headwind you naturally start pedalling harder. At this point the motor senses the extra force being applied and gives you the electric assist accordingly.
Whereas the Bafang has a very start/stop feel to the assist, the Tongsheng is smooth and progressive. Pedal harder and the motor gives more help – you really feel the connection with the motor and it makes you feel like you have super strong legs.
Neat installation
The Tongsheng TSDZ2 is physically smaller than the Bafang and weighs slightly less at 3.6kg (4.2kg for the Bafang). There's also a very useful mounting bracket which ensures the motor doesn't move in the bottom bracket shell. If installed correctly with the cables tidied up then a TSDZ2 conversion can look just like a factory e-bike.
Reliability
As far as reliability is concerned the TSDZ2 is prone to some occasional faults. Although generally reliable, the main problem area's are the blue nylon primary gear inside the motor, the sprag clutch (or one-way bearing) and torque-sensing system. Sometimes the motor controller can fail but this seems rarer than on the Bafang – they are quite cheap and easy to replace if this happens.
Thankfully all the above issues can be easily fixed by a competent DIY enthusiast and spare parts are easy to acquire. There's also a lot on online resources on fixing these motors on places like YouTube and endless-sphere.com.
Out of the 30 motors I've installed I have only had one issue and that was the blue nylon gear –  this can be replaced with the motor in situ and takes less than 1 hour in total. Some owner prefer to fit a brass replacement gear which is more durable but will increase the noise of the motor.
Riding your Tongsheng TSDZ2 e-bike
I would say the Tongsheng TSDZ2 is more suited to the rider who favours a pedal assist that enhances their cycling abilities rather than take over altogether (like the more powerful Bafang motors). You still have to put in a certain amount of effort but this is greatly reduced depending on what mode you choose. There are 5 levels of assist – eco, tour, speed and turbo. Having owned and ridden several hundred miles on a TSDZ2 conversion I found 'tour' mode to be the best balance between battery range and assist. You still feel like you've had a workout you're just not so tired afterwards.
This is especially useful if you live in a hilly area like Cornwall or Yorkshire. The Tongsheng TSDZ2 can be a great fitness and motivational addition to your bike – I have written a separate article on using an e-bike to get fit and lose weight on my other website.
Motor Specification:
Motor Model: TSDZ2 36v 250w/350w
Power: 250/350w
Voltage: 36V
Controller Current: 15A
MAX Torque: 80 N.m
Top Speed: 25km/h
PAS SENSOR: Torque, cadence and speed Sensor
Waterproof Grade: IP65
Bracket bottom length: 68mm-73mm standard threaded BSA type
What's in the box:
Tongsheng mid drive motor unit
Crank arms (pair)
Chainring
External Speed Sensor
Display
Wiring harness
Motor lockring spanner
Assorted fixings
Legal notice
The 250w Tongsheng TSDZ2 can be legally ridden in the UK under EAPC laws and is limited to 25km/h (15.5mph). If you change the maximum assisted speed settings in some displays it would no longer be legal to use on roads and public spaces. There are 350w and 500w versions available – these are not recommended for use on roads in the UK.

Conclusion
The Tongsheng TSDZ2 is an excellent electric bike conversion kit and is my favourite road-legal option in the mid-drive category. If you want something road legal and are not bothered by high performance (like the Bafang BBS02B) then the TSDZ2 is hard to beat.
You could quite easily spend £2000-£2500 on a new Bosch or Shimano Steps e-bike, whereas with a Tongsheng you can buy a good quality donor bike (new) for around £500 and spend £600 on the motor kit / battery and have a good mid-drive electric bike for just £1100.  Plus you have the satisfaction of knowing it's unique and you built it yourself.
When making a direct comparison between the TSDZ2 and Bosch or Shimano motor, the Tongsheng isn't quite as refined, smooth or quiet but it's pretty damn close and at only a fraction of the cost, and it's fairly easy to repair if it does go wrong – highly recommended!
Please check out the review below for more information of the Tongsheng TSDZ2. The Tongsheng is also featured in my best e-bike conversion kits article.
Visit ebikechoices.com for the full and detailed Tongsheng TSDZ2 review

The Tongsheng TSDZ2 has grown over the last few years to become one of the most popular DIY mid-drive e-bike conversion kits. The two main advantages ...
Add to wishlist
Added to wishlist
Removed from wishlist
1
Add to compare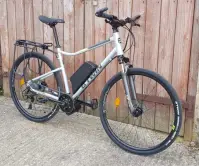 The Tongsheng TSDZ2 is an excellent DIY alternative to expensive Bosch E-Bikes
Having ridden several hundred miles on a Tongsheng TSDZ2 I can honestly say it's a great e-bike conversion kit. If you're looking for a motor that's going to enhance you cycling and not dominate it then the TSDZ2 is the motor for you. I love the way the motor responds to your pedalling input and I'm also impressed by the neat way it integrates into your existing bicycle. It's also a bit cheaper than the Bafang equivalent. Another thing I noticed with the Tongsheng is it seems to be more energy efficient - this is probably down to the clever torque-sensing pedal assist. All in all I highly recommend this kit.
PROS
Excellent value
Bosch-like performance
Very neat installation
Lighter in weight than the Bafang
Generally reliable
Road legal in the UK
CONS
Not quite as quiet as the Bafang
Can require some long-term maintenance
Price History
Price history for Tongsheng TSDZ2 Electric Bicycle Ebike Conversion Kit 36V 48V 52V TS Mid Motor Engine With BB 68 MM Length

Latest updates:

£293.88 - June 4, 2022
£296.14 - June 2, 2022
£263.62 - May 31, 2022
£265.46 - May 23, 2022
£267.07 - May 22, 2022
£272.70 - May 14, 2022
£269.40 - May 10, 2022
£266.33 - May 4, 2022

Since: December 29, 2021

Highest Price: £296.14 - June 2, 2022
Lowest Price: £188.41 - January 5, 2022